Equestrian SeatSaver
Our equestrian SeatSaver is a lightweight saddle cover made out of Air Mesh. It can be used for 17 inch and 18 inch dressage saddles and all purpose saddles. With its unique pressure distributing qualities, the seatsaver prevents injuries caused by friction and chafing of the saddle, a problem also known as decubitus.
Thanks to our use of a super ventilating 3D material called Air Mesh, the seatsaver is shock-absorbing and provides extra comfort to the rider. As a result, it lessens pressure and wicks away moisture! Moisture buildup is one of the main causes of those nasty pressure sores.
Besides that, the seat saver is extremely lightweight, only 220 grams! This makes it ideal for endurance and long distance riding. But for a hardy dressage hour it also brings relieve; the pad lessens pressure in problem areas (we all know those spots!) and gives comfort.  Because of this, it enables a firmer and surer seat. Air Mesh is made of a three dimensional woven fabric with an open structure, preventing the buildup of heat and moisture, even in extreme weather conditions. The fabric will always feel dry and cool, and works as a non-slip surface for a sure seat.
Instructions
The seatsaver is lightweight,  machine washable on 30° and quick to dry. This makes it ideal to bring it on your horse riding holiday. The Fast Fabrics SeatSaver is fastened to the saddle with the help of a supple, elastic band in the middle and 3 neoprene pockets and it is mainly suitable for saddles with a round cantle.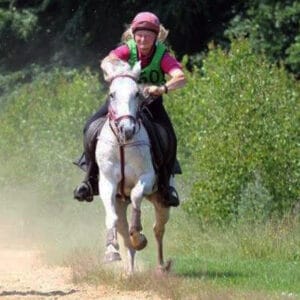 "I'm always looking for solutions that will give my horses and riders extra comfort. Our riding holidays are pretty demanding, and ask a lot of horse and rider, causing minor injuries. New materials like the ones used in the seatsaver can solve a lot of problems. The spacer fabric is also good against sweating in the hot Moroccan climate"